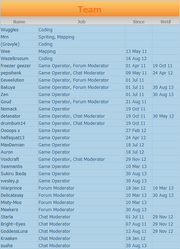 A complete list of all staff is provided on the
Credits
page in game and under the
Member List
once you click
Forum Team
.
Forum Staff Identification
How to spot a staff member- each staff member based on what group they're apart of will have a different color for their username.
Administration: green italicized font
Moderators: pink font.
Game Operators: red font.
Forum Moderators: bluegreen font.
Chat Moderators: purple font.
Current Staff Members
Administrators: Wuggles, Mrn, Quil
Moderators: Wee, (Grovyle), Wezelkrozum, Morris
Game Operators: Goud, Nomack, drumbum14, Oooops x, halfsquat13, MaxDemian, Auron, Voidcraft, Seamantis, Sukiru Ikeda, wesley.p
Forum Moderators: Eeveelution, Goud, Misty Moo, Meekers
Chat Moderators: drumbum14, Voidcraft, Kraaken, susha
Former Staff
Previous members of staff can also be viewed on the credit's page in addition to when they started their moderation duties until they retired.
Those who have either left the team, or were removed for (for example) inactivity are: freezer geezer, pepsihenk, Bakuya, Zen, detanator, Warprince, Delicatessy, Starla, Bright~Eyes, GodessLuna